THE CREED OF NICEA
I BELIEVE in one God
the Father Almighty, Maker of heaven and earth, And of all things visible and invisible:  And in one Lord Jesus Christ, the only-begotten Son of God; Begotten of his Father before all worlds, God of God, Light of Light, Very God of very God; Begotten, not made; Being of one substance with the Father; By whom all things were made: Who for us men and for our salvation came down from heaven, And was incarnate by the Holy Ghost of the Virgin Mary, And was made man: And was crucified also for us under Pontius Pilate; He suffered and was buried: And the third day he rose again according to the Scriptures: And ascended into heaven, And sitteth on the right hand of the Father: And he shall come again, with glory, to judge both the quick and the dead; Whose kingdom shall have no end.  And I believe in the Holy Ghost, The Lord, and Giver of Life, Who proceedeth from the Father and the Son; Who with the Father and the Son together is worshipped and glorified; Who spake by the Prophets:  And I believe one Catholic and Apostolic Church: I acknowledge one Baptism for the remission of sins: And I look for the Resurrection of the dead: And the Life of the world to come. Amen.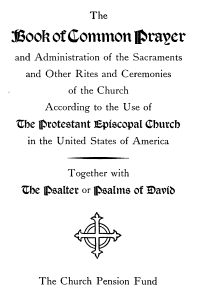 ...the Book of Common Prayer is our compass. If Scriptures and Tradition might be likened to magnetic north, the Prayer Book is a needle pointing steadily toward them, thereby enabling us to steer a steady course in a confusing world.
- Father David A. Edman ,Church of the Holy Communion, Dallas, Texas
THE AFFIRMATION
OF ST. LOUIS
The Continuation of Anglicanism
We affirm that the Church of our fathers, sustained by the most Holy Trinity, lives yet, and that we, being moved by the Holy Spirit to walk only in that way, are determined to continue in the Catholic Faith, Apostolic Order, Orthodox Worship and Evangelical Witness of the traditional Anglican Church, doing all things necessary for the continuance of the same. We are upheld and strengthened in this determination by the knowledge that many provinces and dioceses of the Anglican Communion have continued steadfast in the same Faith, Order, Worship and Witness, and that they continue to confine ordination to the priesthood and the episcopate to males. We rejoice in these facts and we affirm our solidarity with these provinces and dioceses.